Himanshi Verma
Let us draw a line segment AM ⊥ BC.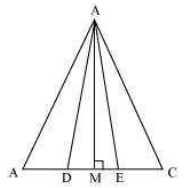 We know that,
Area of a triangle = 1/2 x Base x Altitude
It is given that DE = BD = EC.
⊥ Area (ΔADE) = Area (ΔABD) = Area (ΔAEC)
It can be observed that Budhia has divided her field into 3 equal parts.
-Answered by Himanshi Verma On 09 February 2019:04:40:18 PM